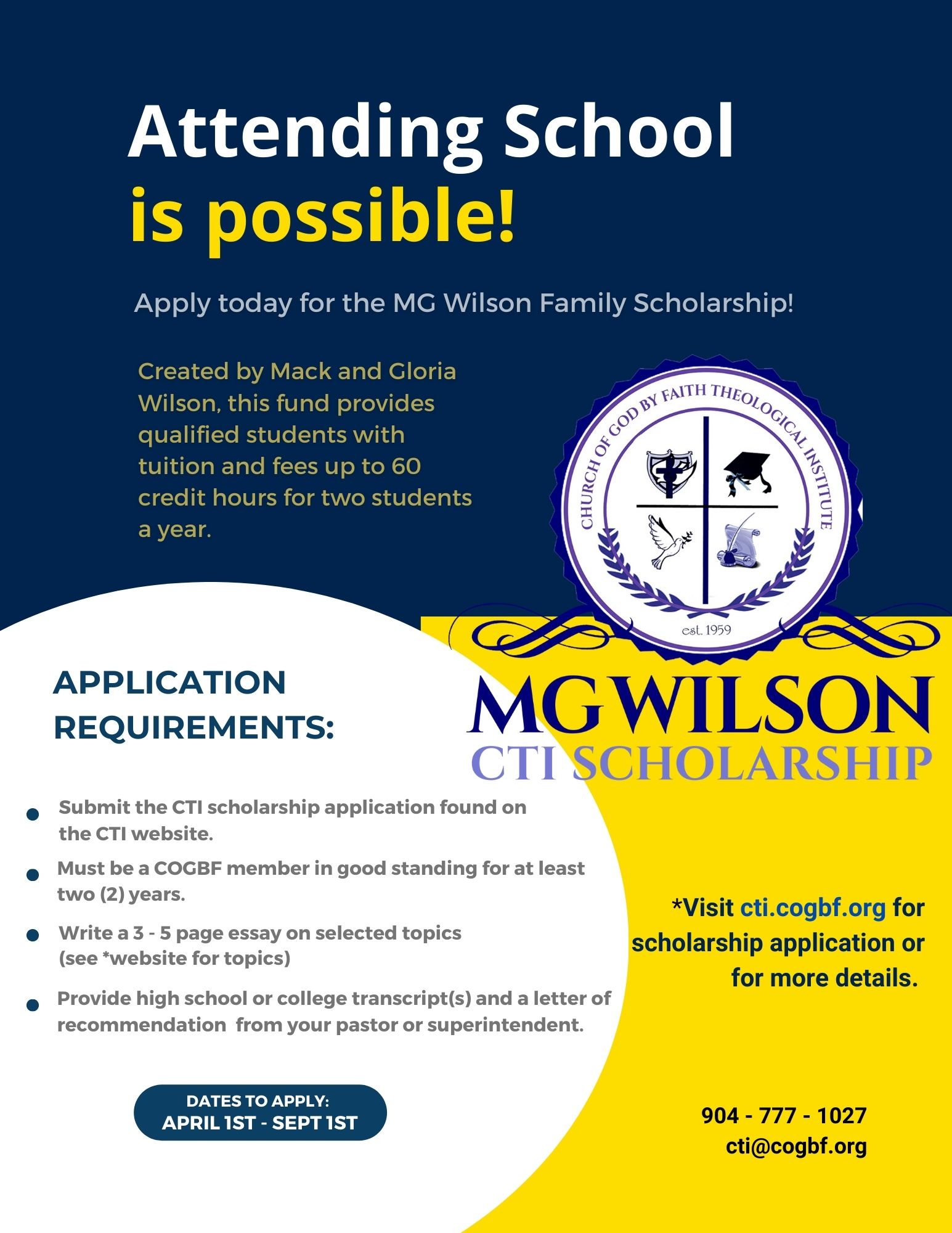 DOWNLOAD APPLICATION HERE
Superintendent Mack and Lady Gloria Wilson established a scholarship fund for ministry students in the Church of God by Faith Theological Institute. The Fund will provide tuition and fees for up to 60-hours of credit for two students each year. The Scholarship will exist in perpetuity as long as funds are available. The Scholarship does not cover books and other expenses. The students must be enrolled in one of the following programs:
1. Christian Ministerial Studies (CMS)
2. Christian Evangelist Training (CET)
3. Christian Pastoral Certification (CPC)
The recipients will be selected from the pool of applicants presented annually to the CTI Scholarship Committee.
NOTE:
This Scholarship is not available for applicants in the master's programs. Additionally, o
rdained elders and candidates who transfer from other ministries do not qualify.
APPLICATION DEADLINE
You can submit your applications for Spring 2024, April 1st – September 1st. Two recipients will be chosen. Applicants who are not selected may apply again during subsequent selection periods.
APPLICATION REQUIREMENTS
The Scholarship candidates must follow these guidelines:
1. Complete and submit the CTI Scholarship Application by September 1st of each year.
2. The Scholarship is only available for candidates who have been a member of the Church of God by Faith in GOOD STANDING for at least two years.
3. Candidates must write a 3–5-page essay on the following:
a. Indicate ministry aspirations and future goals.
b. Statement of financial need.
c. Share experiences as an active participant, volunteer, and member of the local COGBF church.
d. Share what they have learned about being a successful
student in CTI.
4. Provide an official high school or college transcript.
5. Submit a letter of recommendation from your pastor and from your superintendent with their signature affixed. If the superintendent is also your pastor, the applicant must get a second letter from a different pastor on your district.
SELECTION CRITERIA
1. Must be a COGBF member in good standing for at least two years.
2. Must provide evidence of consistent, ACTIVE INVOLVEMENT in a local COGBF.
3. Must submit a 3–5-page essay on why the candidate wants to be a minister in the Church of God by Faith.
4. Must be a high school graduate or have a GED.
5. Agree to allow CTI to complete an electronic background check.
6. CTI will include a transcript to the Selection Committee for those already enrolled.
7. Applicant must be willing to prove their financial needs.
8. Candidates who have already started in CTI may apply. However, the Scholarship only provides up to 60-hours of funding toward the first certification. For example, if a student already earned 18-hours and was awarded this Scholarship, they would receive 42-hours of funding toward their certification.
9. A student who has already graduated from CTI with a ministry certification may apply for funding for the Christian Pastoral Certification.
10. The Selection Committee will consider the maturity and commitment of the candidates during an online interview.
SCHOLAR COMMITMENT TO THE CHURCH OF GOD BY FAITH
The MG Wilson Family provided funding to advance the cause of Christ and to support emerging ministry leaders in the Church of God by Faith. Consequently, the Scholarship recipient must remain in active service in The Church of God by Faith for at least five years after their ordination or consecration. If a graduate leaves prematurely, he /she must repay the amount of the Scholarship received. The repayment is prorated according to the amount owed.
APPLICANTS MUST BE ENROLLED FULL-TIME
Students who receive this Scholarship must register for a full-time schedule each semester. Each student is given a Degree Audit for their program, and the CTI registrar will enroll them in their classes. The CTI staff will monitor class attendance and performance at every level. The course load is listed below.
• 1st Spring – 3 Classes: 9 hours
• 1st Summer A – 2 Classes: 6 hours
• 1st Summer B – 2 Classes: 6 Hours (If available)
• 1st Fall – 3 Classes: 9 hours
• 1st General Assembly: 1 Class: 3 hours
Students complete 33 hours in their first year.
• 2nd Spring – 3 Classes: 9 hours
• 2nd Summer A – 2 Classes: 6 hours
• 2nd Summer B – 1 Class: 3 Hours (If available)
• 2nd Summer B – Examining Board Class
• 2nd Fall – 3 Classes: 9 hours
The student completes 27-hours the second year and graduates at the General Assembly.
NOTE: Adjustments may be needed according to the availability of specific courses.
EXPENSES COVERED BY THE SCHOLARSHIP
1. Up to 60-hours of tuition.
2. Technology fees.
3. Application fee.
4. Graduation fee.
EXPENSES NOT COVERED BY THE SCHOLARSHIP
1. Books and supplies.
2. Graduation vestments.
3. Tuition for a failed class.
4. Convention accommodations, registration, and travel.
REQUIREMENT TO KEEP THE SCHOLARSHIP
1. Must enroll in a CTI Orientation class.
2. Scholarship recipients must write a letter of gratitude to the Wilson Family and CTI.
3. CTI requires a grade of a "C" or better to pass each course. Scholarship recipients must also follow all attendance and late assignment policies to remain in good standing.
4. If recipients quit the program early, they must repay the tuition based on a percentage of the program completed.
5. Maintain a lifestyle called for by a minister of the Gospel of Christ.
ANNOUNCEMENT OF SCHOLARSHIP RECIPIENT
The Scholarship winners will be awarded at each General Assembly and are recognized in the CTI graduation program.