DEACON/DEACONESS CONTINUING EDUCATION
Are you a Deacon or Deaconess in the Church of God by Faith? Do you have a desire to enhance your spiritual knowledge? Gain life – long skills by participating in the Deacons Continuing Education program. It provides a learning opportunity for currently ordained or consecrated deacons/deaconesses.
To participate in the DCE program, you must be a currently ordained or consecrated Deacon or Deaconess in the COGBF. Any three(3) – hour course given by CTI will qualify in the DCE program. Enjoy classes from any field of study being offered during any term. DCE students are required to take one (1) course per year. For more information, contact the CTI Registrar at 904-777-1027 or email
sherrie.roberts@cogbf.org
.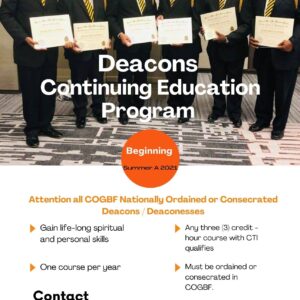 PLEASE CLICK THE LINK ABOVE
SPRING 2021 Registration Now Open
Hello current and future CTI students. It's about that time to register for our Spring 2021 classes. There's a lot going on in the world and we need to be vigilant in our biblical studies more than ever. CTI is poised to help students who are seeking ministerial certifications as well as those who just want a guided study. Please consider the following:
During this pandemic, it's the perfect time to study the Word of God.
The Pastors and Ministers Wives class will start again.
Classes start January 4th but you have until January 22nd to pay your tuition.
Register for your class online here, or contact the registrar here for assistance.
You can find links to order your books by clicking on the image to the right; then download the form into your computer.
Each student will receive a personal study page with all of their classes, test, syllabi and communication systems in one place.
Call 904-777-1027 for additional information.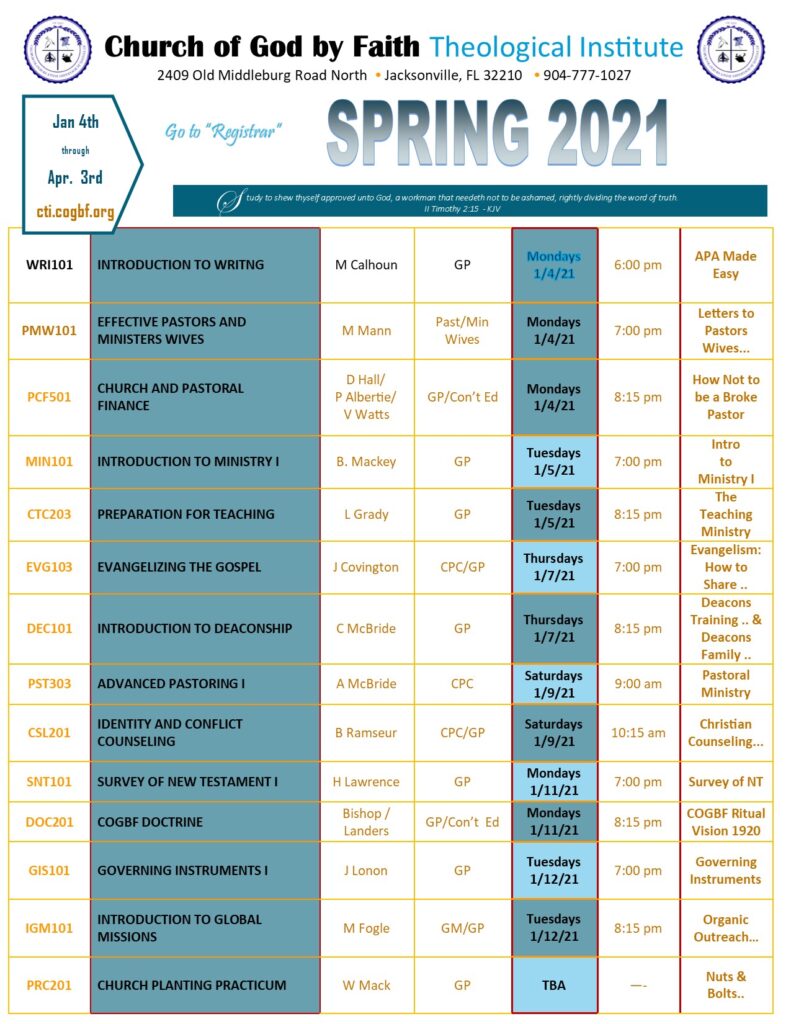 PLEASE CLICK THE PHOTO ABOVE
PASTORS AND MINISTERS CONTINUING EDUCATION
The clergy of the Church of God by Faith, Inc. will have the opportunity to engage in lifelong learning to stay abreast of current Christian education trends to enhance the work of ministry.
This Continuing Education Program will consist of select courses aimed at helping male and female ministers and pastors manage church affairs in an efficient manner. A
ll ordained/consecrated clergy possessing a minister's license from the Church of God by Faith, Inc. must engage in the Life-Long Learning program by taking continuing education courses.
Please click on the link to the right to see the qualifying courses.
NEW PASTORS AND MINISTERS WIVES' COURSE STARTS JANUARY 4, 2021
This course was created unanimously by the Leading Ladies of the Church of God by Faith. The aim is to promote growth and effectiveness in every pastor and minister's wife.
We are excited to report that all of our Leading Ladies are currently enrolled in the course. Why? Because they are solidly convinced that every first lady needs prayerful training and support…including them.
The class is designed to equip Pastors' Wives with biblical and practical knowledge and skill in understanding and ministering to women. This class is also designed to encourage the Pastor's wife in her personal life as a woman of God and further equip her to be a strong asset to her husband
.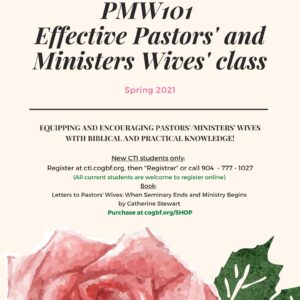 PRC201 Practicum Spring 2021 – Pastor Wayne Mack
This course provides instructions on basic methods, procedures and processes for church planting including instant practical takeaways based on proven techniques and a clear presentation of concepts such as: preparing for church planting, defining church planting, identifying church planters, financing church plants, creating the church plant's foundational character, and determining the work and drive of the new church plant.
Expectations and Goals
Students are expected to learn and understand the basics of how to plant churches in a systematic way in order to meet success and to differentiate between a church plant and a church start-up. Students will review the COGBF model and strategy for church planting and determine areas where they can be effective church planters.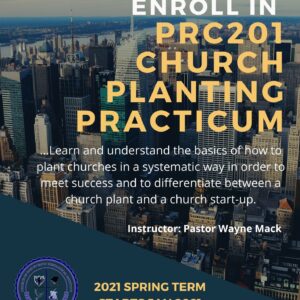 GLOBAL MISSIONS PROGRAM
At CTI, the singular purpose for Global Missions is to train missionaries at every age to serve locally, regionally and abroad. To meet that end, the staff at CTI has engaged in a comprehensive study of the best practices among denominational churches. It was concluded without equivocation that much work needs to be done if the COGBF is to rise to a higher level. One of the goals is to make the term "missionary" an acceptable calling across all demographics in the COGBF. When Mother Willie Slater Smith started the Home Mission in 1958, it was primarily staffed with middle to older aged women who worked within their communities to care for the sick and those most in need. Some visited hospitals and prisons and set-up food banks and they truly made an impact in the neighborhoods they served. While these ministries remain extremely important, the Church of God by Faith is seeking a new direction in mission work and CTI is prepared to assist in this process.

Read more here.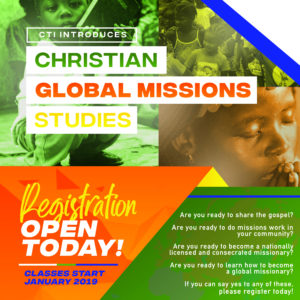 CONTINUING EDUCATION MESSAGE FROM THE EXECUTIVE COUNCIL
The Executive Council met in Jacksonville and engaged in a comprehensive review of the Pastors and Ministers Continuing Education Program. There were several policy changes that affect older pastors, consecrated women ministers as well as leaders who graduated from CTI.
It is crucially important that each minister or elder read this document carefully and adhere to the p
o
licy changes. If you have additional questions, contact your superintendent or call the CTI Office at 904-777-1027.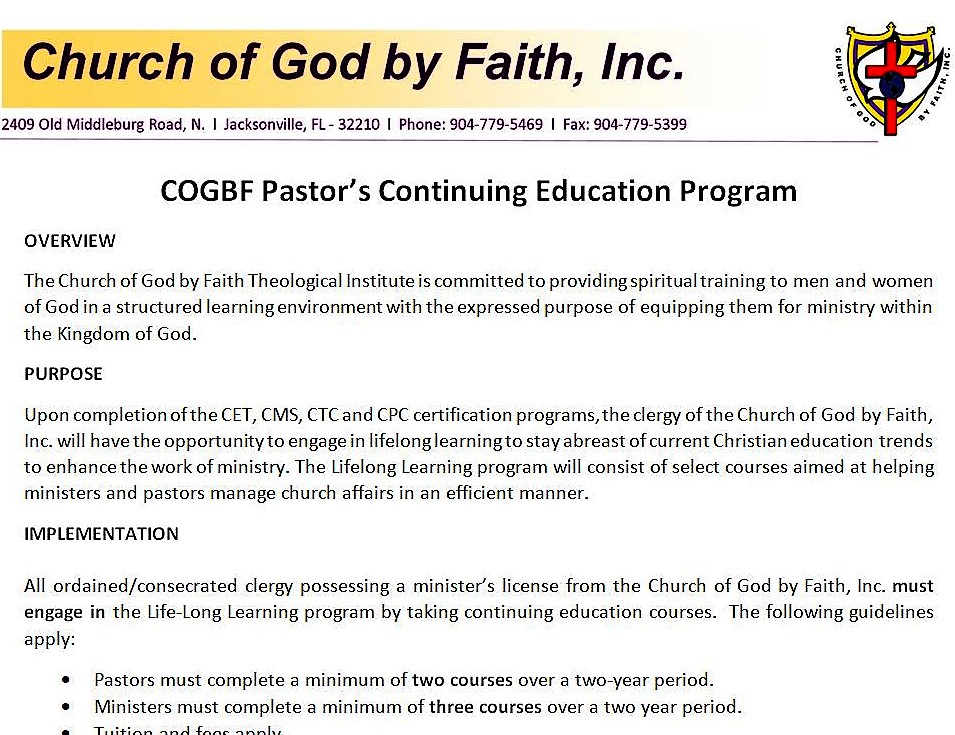 CTI IS BIBLICAL – All certificate programs are taught by committed instructors and are firmly grounded in Scripture.
CTI IS CONVENIENT – Most courses are taught online using state-of-the-art technologies which are both interactive and convenient for students.
CTI IS AFFORDABLE – CTI provides high quality Christian Education at affordable tuition rates. The goal is to educate as many men and women as possible to advance the cause of Christ.
CTI IS STABLE – The Church of God by Faith was founded in 1914. As early as 1926, quality education and training was provided for leaders. In the year 1959. The training was organized into what was called the Examining Board. In January 2016, the program was made available online and relaunched into what is now called the Church of God by Faith Theological Institute.
CTI IS AUTHORIZED – The Church of God by Faith Theological Institute (CTI) is registered under Section 1005.06(1)(f), Florida Statutes and Rule 6E-5.001. of the Commission of Independent Christian Education by the State of Florida. CTI was also approved as an 501c3, Independent Christian College by the Federal Government.
CTI EXISTS TO HELP YOU – Do you want to learn more about the Bible? Have you been called to teach or preach? Are you serving in a role in your church and need additional training? If you can answer "yes" to any of these, then CTI can help you.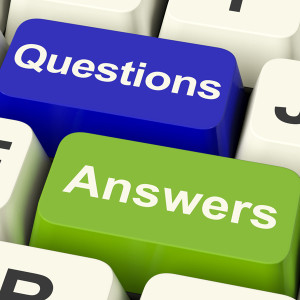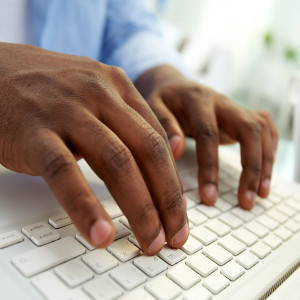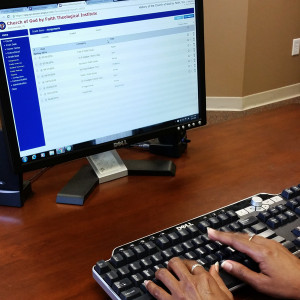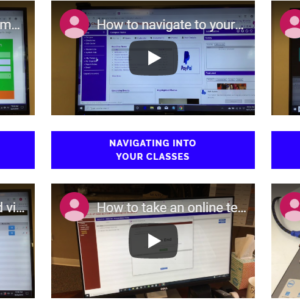 PRE-ENROLLMENT INFORMATION
SUBMIT YOUR APPLICATION HERE
CHOOSE YOUR CTI COURSES HERE
SYCAMORE TUTORIAL VIDEOS
Virtual Convention Registration starts: October 26, 2020
Last day to register for classes: December 11, 2020
Tuition and Fees deadline: December 11, 2020
First Day of Classes: December 17, 2020
Last day to drop a class with refund: December 16 , 2020
Last Day to withdraw without refund: December 18, 2020
Last day of term: December 23, 2020
Registration starts: March 8, 2021
Last day to register for classes: May 7, 2021
Tuition and Fees deadline: May 14, 2021
First Day of Classes: May 8, 2021
Last day to drop a class with refund: May 14, 2021
Last Day to withdraw without refund: May 21, 2021.
Last day of term: June 11, 2021
PASTORS CONTINUING EDUCATION
FULL CTI 2021 CALENDAR
CTI STUDENT POLICIES AND HANDBOOK
CTI 2021 BOOKS AND SCHEDULE